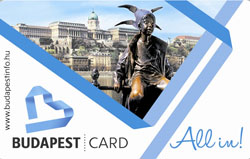 you want to spend three perfect days in the capital
you want to try everything in the most economic way possible
you arrived in Budapest with your child(ren)
you do not want to worry about buying tickets for the underground and trams
Begin the day with a sightseeing tour in Pest or Buda – the card offers you two free tours in Budapest.
You can discover all the three museums, which can be visited for free, in three days, even together with a child up to 14, who can accompany you for free. You should definitely visit the Museum of Fine Arts on Heroes' Square, because you are granted a free entrance to its permanent and temporary exhibitions as well. You can become acquainted with Hungary's historical relics in the Budapest History Museum, and you can discover the traditions of Hungarian folk arts in the Museum of Ethnography. Take part in a boat trip in the afternoon or relax in the pools of the Széchenyi baths every day.
In addition to the museums and baths, several other interesting venues are waiting for you: the Zoo, the Circus, the Amusement Park, the Labyrinth under the Castle in Buda and the Palace of Miracles – Budapest Card offers you significant discounts to these places. Would you like to discover the caves in Buda or try a ride on the pedal carriage on the Margaret Island? You are provided a wide range of opportunities, because you can choose from more than one hundred free or discounted offers (thermal baths, museums, sights, events, sightseeing tours, restaurants, etc.) in order to make the most of your 72-hour card!
You can utilise the discounts at several restaurants in Budapest on the go. The guide with the map will always be a useful help for you!
You can also travel easily with the card and forget about the trouble with purchasing tickets for the vehicles of the public transport system, selecting the right type of ticket, validating it, etc.
Before you start your trip, do not forget to check the up-to-date events in the capital, because you might have a significant discount for these as well!
You will see after a short calculation that it was worth buying the Budapest Card, because you spent less than half of the amount of money you would have spent without the card in three days!
Budapest cards are available at the reception!